The first patents exhibition of its kind in Israel

to promote and expose the field of patents
and to connect between inventors and investors,
in September at the Tel Aviv Exhibition Grounds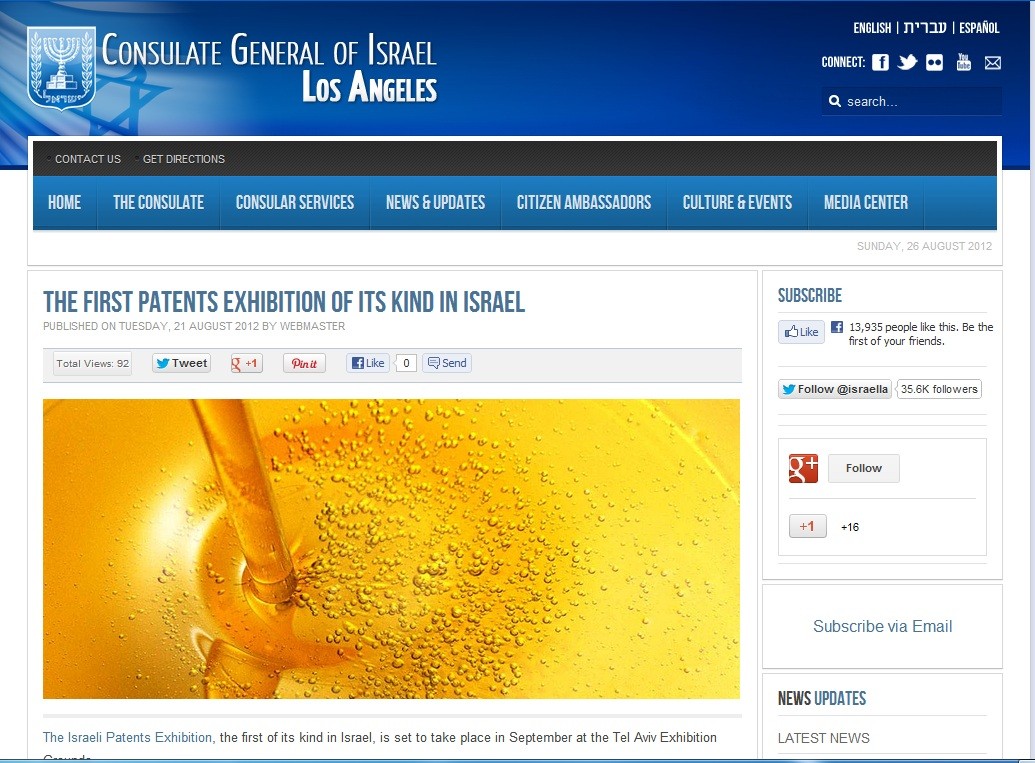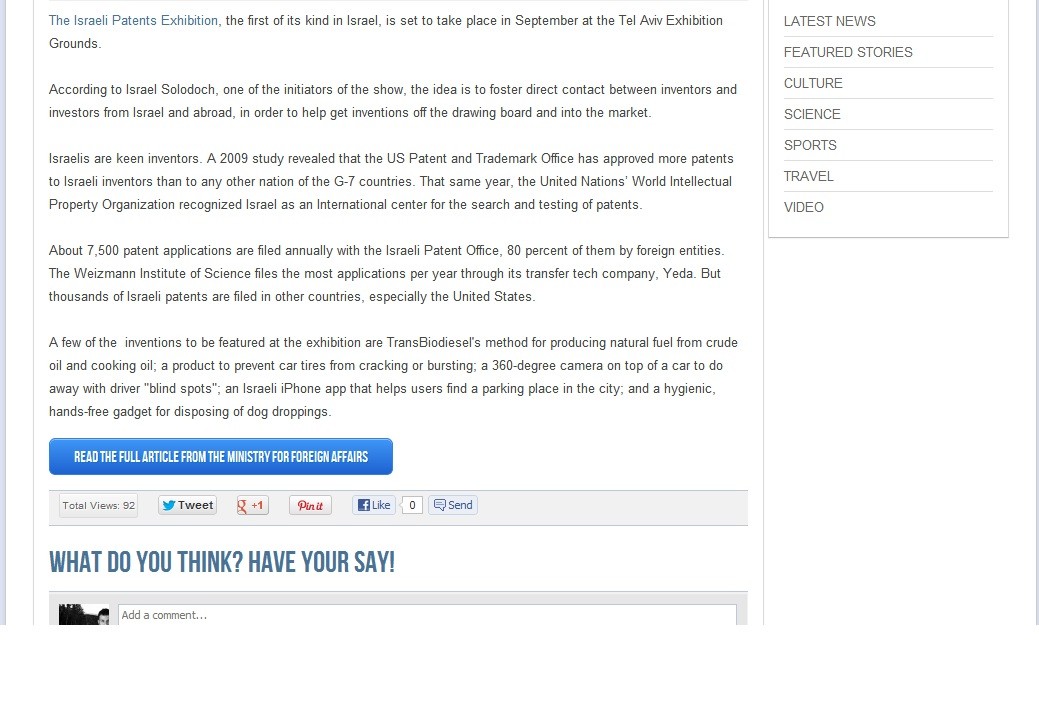 "The first patents exhibition of its
kind in Israel..."
The Consulate General of Israel website.
The Israeli Patents Exhibition, sponsored by Nufar Ltd., the first patents exhibition to be held in Israel, will open in September at the Tel Aviv Exhibition Grounds.

This exhibition will allow direct contact between inventors and investors from Israel and abroad. Such meetings will assist in the development of patents and their exploitation.

"Realizing patents and exploiting them will help to develop Israeli industry and promote Israeli exports", said Israel Solodoch, the Managing Director of Nufar Natural Products Ltd., one of the initiators of this exhibition.
The hardest part in the field of patents is finding an investor. The purpose of this exhibition is to solve this difficulty through direct face to face contact with investors.

Not only investors will be among the exhibitors, but also representatives from venture capital companies interested in investing in new inventions, as well as many providers of services to inventors such as: patent attorneys, engineers and programmers.

In addition to the investors and venture capital companies, startup companies are also being invited to attend.

In Israel and in the world, startup companies raise first capital to develop an idea, only to then experience difficulties in developing it. Therefore, they are looking also for new ideas as well as inventions and Israeli hi-tech people who can assist them in contending with developing the original idea or to develop different ideas instead.

These startup companies, through this exhibition, will be able to recruit developers and inventors who can be hired to work on their ideas within startups and thus, through their work with the company, they will be able to develop their original ideas.
Among the inventions to be presented at the exhibition will be the innovative water saving tap that can save up to 80% of water consumption and thus can cover its purchase price within a month.

Furthermore, an invention will be shown that can produce natural fuel from used oils. It appears that it is possible to produce a natural fuel from oil that was used to fry felafel or even from oils found in the oil traps in sewage systems. Thus, instead of polluting the environment by pouring oil into the sewage system, a natural fuel can be produced which of itself reduces environmental pollution.

Another invention to be shown at the exhibition offers a solution to the difficult problem that all of us suffer from which is how to deal with what dogs leave behind them in the streets. It appears that through a simple and hygienic invention, it is possible to solve this problem elegantly.

Nufar LTD has also the Israeli web site for patents and inventions.

This web site is intended for the free advertising of inventions from Israel and around the world.
This website is being promoted on the internet with the intention of assisting Israeli inventors and inventors from around the world to find investors to bring their work to fruition and global marketing.

As aforesaid, advertising on this website is free which is the contribution by Nufar Natural Products that has taken up the challenge of helping inventors from around the world to realize their inventions and in this way to assist global technological developments that break all boundaries and that strengthen more widespread commercial contacts between Israel and the rest of the world.

If you are interested in registering for the exhibition or would like to receive further particulars, please contact Nufar Ltd.
on +972-(0)8-9358135,